KEY TEACHINGS OF JMMANUEL:
THE LAWS OF CREATION
© All rights reserved by the author
I will now discuss the laws and directives of Creation, which govern life and which allow individual spirits to evolve.
The fundamental principles of the Creational Realm are shown here:

CREATIONAL REALM
PRINCIPIA
I. NOTHING EXISTS OUTSIDE
OF THE CONSCIOUSNESS
OF CREATION
II. ALL OF CREATION STRIVES
TOWARD PERFECTION
Please grasp these two principles. They are most significant, since everything else follows logically from them. If you remember nothing else from my lecture but these two principles, you will have planted the seeds for spiritual understanding.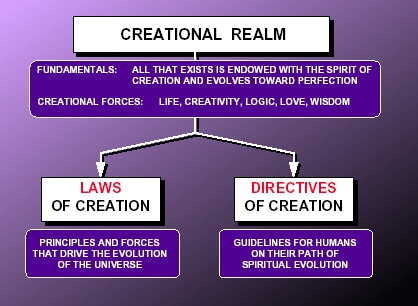 Creation evolves over eons of time according to eternal principles and laws, which I have attempted to condense into convenient sound-bites here. After my own summaries, I will quote relevant verses directly from the TJ.
We distinguish between LAWS of Creation and DIRECTIVES of Creation.
The LAWS define the principles and forces governing the evolution of the universe.
These Creational forces, which drive evolution, are:
LIFE, CREATIVITY, LOGIC, LOVE and WISDOM
The DIRECTIVES are guidelines for humans on their individual paths of spiritual evolution.
I will discuss the Laws of Creation first:
The Laws of Creation are the "Blueprint of Reality." They describe the way it is.
The physical laws that our sciences are discovering, such as the laws of physics, chemistry, biogenetics, engineering, etc. form a subset of the spiritual laws of Creation, because spirit controls the material world. Matter is the physical manifestation of a spiritual idea.
And since the Creational laws are built on logic, the physical laws must also conform to logic.
Our scientists are starting to uncover many of these physical laws, but are still a long way from understanding them.
I will concentrate here on the spiritual aspects of the Laws of Creation; and so I have arbitrarily extracted the 12 most important aspects of Creation from the TJ:

LAWS OF CREATION -- SPIRITUAL
1. IMMUTABILITY
CREATION AND ITS LAWS ARE
ETERNAL AND UNCHANGING
Creation and its Laws are Eternal and Unchanging. You can rely on Creation. Unlike our governments, it never changes the rules.
"But the laws of Creation are the laws of life and the spirit, therefore they are eternal and constant." [TJ23:43]

LAWS OF CREATION -- SPIRITUAL
2. OMNIPRESENCE
CREATION IS ALL
Creation is All and Everpresent. It brought forth all that exists out of itself. It is the source of all power and endows everything with spirit and life.
"Within itself, Creation is pure spirit and therefore infinite power, because it is one within itself, and nothing exists outside of it." [TJ21:28]

LAWS OF CREATION -- SPIRITUAL
3. OMNIPOTENCE
CREATION IS OMNIPOTENT
Creation is Omnipotent. In its creativity, love, logic and wisdom, and in its spiritual power, Creation stands immeasurably high above all individually existing life forms.
Jmmanuel preached powerfully, saying, "Behold, Creation stands above humanity, above god and above everything." [TJ34:1]

LAWS OF CREATION -- SPIRITUAL
4. LOVE
CREATION'S LOVE IS
UNCONDITIONAL
Creation's Love is Unconditional.
"Truly, I say to you, a love that is unlimited, constant and unfailing is unconditional and is a pure love, in whose fire all that is impure and evil will burn. Such a love is Creation's love ..." [TJ32:39-40]

LAWS OF CREATION -- SPIRITUAL
5. LOGIC
EVERY EFFECT HAS A CAUSE,
EVERY ACTION HAS A
CONSEQUENCE
Every Effect has a Cause. Every Action has a Consequence.
When you violate a Law of Creation, you have to accept the consequences.
If the universe did not function according to logic, our sciences would be useless, because mathematical prediction would be impossible.
"Commandments and laws are valuable only when they are derived from wisdom, and hence are logical." [TJ26:11]

LAWS OF CREATION -- SPIRITUAL
6. MYSTERY
CREATION IS INFINITELY
MYSTERIOUS
Creation is Infinitely Mysterious.
No person can ever know and understand the last secrets of Creation by conjecture. Only when a spirit has become all-wise through the experience of a millionfold existence and is ready to merge with Creation, will a spirit know the last mysteries of Creation.
"... no one knows the secret of Creation, not even one person, and therefore neither god nor his followers." [TJ11:29]

LAWS OF CREATION -- SPIRITUAL
7. LIFE
THE LIFE FORCE IS
THE POWER OF THE SPIRIT
The Life Force is the Power of the Spirit.
Life is! It is everywhere, because the spirit of Creation is everywhere.
There is no hidden meaning to life. Life is an opportunity for spiritual growth.
We create meaning by the way we conduct our lives.
"... and the power of the Creational spirit within humans embodies life." [TJ10:7]

LAWS OF CRFEATION -- SPIRITUAL
8. CREATIONAL EVOLUTION
CREATION NEVER STOPS
CREATING IN THE PROCESS
OF PERFECTING ITSELF
Creation Never Stops Creating in the Process of Perfecting Itself.
"Since Creation is spirit and thus lives, even it must forever perfect itself." [TJ34:3]
"But since it is one within itself, it can perfect itself by way of its own creations, through the generation of new spirit forms that dwell within humans, give them life, and evolve toward perfection through their learning." [TJ 34:4]

LAWS OF CREATION -- SPIRITUAL
9. HUMAN EVOLUTION
A HUMAN SPIRIT EVOLVES
BY GROWING IN LOVE,
LOGIC AND WISDOM
A Human Spirit Expands and Flourishes by Enriching Itself with Love, Logic and Wisdom.
"The spirit of each person is created specifically for the task of perfecting itself and gaining wisdom." [TJ21:25]
It takes countless physical lifetimes for a spirit to become perfect, and so it must reincarnate countless times.
– which brings us to the subject of

LAWS OF CREATION -- SPIRITUAL
10. SPIRITUAL
IMMORTALITY AND
REINCARNATION
A HUMAN SPIRIT IS
INDESTRUCTIBLE & EVOLVES
THROUGH THE EXPERIENCES
OF MANY LIFETIMES
Once Created a Human Spirit is Indestructible.
"The material life is limited, but the life of the spirit lasts forever..." [TJ34:22]
A human spirit evolves through the experience gained in many lifetimes, because
the spirit can only learn through the experience of life in a physical body.
"Only through the circumstances of human life can humans develop and use their Creational powers in consciousness and in spirit." [TJ32:25]

LAWS OF CREATION -- SPIRITUAL
11. FREE WILL
AND DESTINY
FREE WILL ALLOWS HUMANS
TO LEARN BY TRIAL, ERROR
AND CORRECTION
Free Will Allows Humans to Learn by Trial, Error and Correction.
Note, we don't just learn by trial and error. We must recognize the error and make corrections.
Creation guides the human life experience by leading a person into situations from which he or she can learn a needed lesson. [Psychologist Carl Jung called these situations "synchronicities"].
"Thus humans live with the mission of perfecting their spirits and obtaining insight and knowledge through mistakes, so that they may lead the lives for which they were destined." [TJ18:53]
"Thousands of lights will guide humans along their path, provided they observe and follow them." [TJ32:31]
– and last, but not least, the subject of

LAWS OF CREATION -- SPIRITUAL
12. JUSTICE
JUSTICE FOLLOWS LOGICALLY
FROM THE LAWS OF CREATION
----
CREATION DOES NOT JUDGE
Justice Follows Logically from the Laws of Creation – but Creation does not Judge.
If you jump off a cliff, gravity will most likely kill you, but there is no judgment involved. The consequences are automatic.
When you needlessly harm another creature, you also harm your own spirit by retarding its development. The consequences are automatic.
"When one makes a mistake that serves the insight, knowledge, and progress of the spirit, there is no punishment, neither in this life nor in any subsequent life." [TJ18:52]
"Through these laws and directives, which represent Creation, humankind in its irrationality will bring cruel judgment upon itself." [TJ25:47]
Another bit of wisdom that is rooted in this law of Creation is:
"As you sow, you will reap."
or in street language:
"What goes around comes around."
We may consider this the inverse Golden Rule:
"As you treat others, so they will treat you."
And this is the way it is!
««------------------»»