KEY TEACHINGS OF JMMANUEL:
DIRECTIVES OF CREATION
© All rights reserved by the author
But what is our responsibility within the grand plan of Creation?
For this, Creation has given us two specific DIRECTIVES.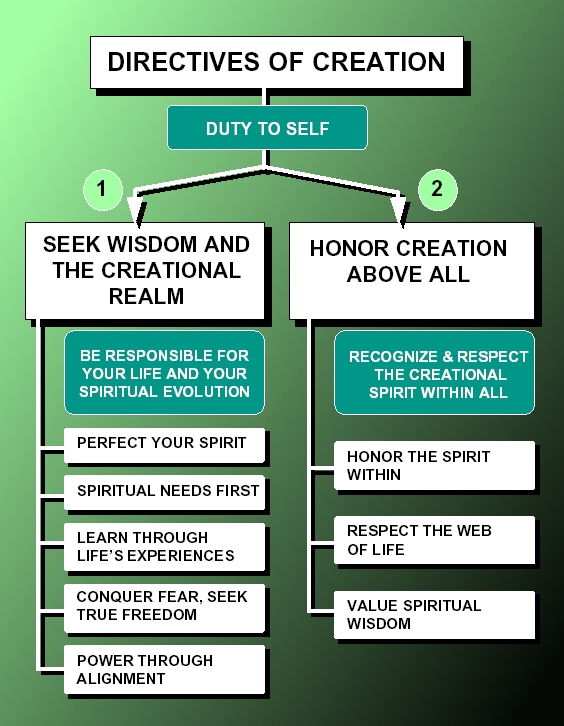 These are:
1. Seek Wisdom and the Creational Realm
2. Honor Creation above All
In common language, the FIRST DIRECTIVE means: Take responsibility for your life and your spiritual evolution.
Jmmanuel replied, "The highest directive in the law of Creation is this: Achieve the wisdom of knowledge, so that you may wisely follow the laws of Creation." [TJ23:35]
"First, humans shall tend to their own progress in consciousness and spirit, so as to produce Creational harmony within themselves." [TJ32:14]
I have listed 5 action items under the FIRST DIRECTIVE:
1. PERFECT YOUR SPIRIT
" ... Therefore, humans should try without ceasing to broaden and deepen their knowledge, love, truth, logic, true freedom, genuine peace, harmony and wisdom, so that the spirit may be perfected and lifted up into its true home, becoming one with Creation." [TJ36:28]
2. ATTEND TO YOUR SPIRITUAL NEEDS FIRST
"First seek the realm of your spirit and its knowledge, and then seek to comfort your body with food, drink and clothing." [TJ6:52]
"What would it profit them if they should gain the whole world, yet still damage their consciousness?" [TJ18:38]
3. LEARN THROUGH LIFE'S EXPERIENCES
Helen Keller said: "Life is either a daring adventure or nothing." And, of course she was right. — Seek new wisdom through new experiences.
"Humans gain experience in the use of their powers and capabilities only by trying daily to unlock them." [TJ32:26]
"But if humans do not think and seek, they will not be able to attain wisdom and will remain fools." [TJ26:15]
Note that Jmmanuel was able to raise the dead and heal the terminally ill, but he was not able to cure the fools. If you remain a fool, nobody can help you.
The next item is:
4. CONQUER FEAR AND SEEK TRUE FREEDOM
Love cannot blossom in the presence of fear.
Personal power cannot blossom in the presence of fear.
Therefore, seek spiritual wisdom to banish ignorance and poverty of consciousness, so that fear may be replaced with love and confidence.
Free yourself from the enslaving power of false doctrines, evil passions, addictions, negative emotions, imagined needs and attachments.
"No greater darkness rules within humans than ignorance and lack of wisdom." [TJ32:15]
"Greatness of personal victory requires uprooting and destroying all influences that oppose the Creational force, ..." [TJ32:16]
And now the last item:
5. GAIN SPIRITUAL POWER THROUGH ALIGNMENT.
Develop spiritual power by aligning with Creation. Create a will that is aligned with the will of Creation, so that you learn to control your destiny.
"When a person aligns everything into this unity, making everything into one, and then says to a mountain, 'Move away,' then it will move away." [TJ34:49]
"Know this: Whatever a person may wish to accomplish, they must always first create the will to do so, because this is the law of nature. Thus a person determines the course of his life, known as fate." [TJ21:17,18]
The SECOND DIRECTIVE of Creation is:
HONOR CREATION ABOVE ALL.
"But the other directive, equal to the first, is this: You shall consider only Creation as omnipotent, for it alone is constant in all things and therein is timeless." [TJ23:39]
There are three related aspects of this Directive:
1. HONOR THE SPIRIT WITHIN
Love and honor the spirit within you and others.
"My spirit, you exist within omnipotence. May your name be holy." [TJ6:12-13]
2. RESPECT THE WEB OF LIFE.
Recognize that all life is interconnected and one in Creation, biologically and spiritually.
Chief Seattle said it well: "Man did not weave the web of life, he is merely a strand in it. Whatever he does to the web, he does to himself."
"Whatever human beings do, they shall do with the awareness of Creation's presence." [TJ32:12]
And, lastly we have:
3. VALUE SPIRITUAL WISDOM – because spiritual wisdom that recognizes the truth is the only true value in life.
"For truly, I say to you: Do not throw your spiritual treasure into the dirt and do not waste it on the unworthy, because they will not thank you and will tear you apart, for their understanding is small and their spirit is weak." [TJ7:10]
This takes care of the Laws and Directives of Creation.
««---------------»»